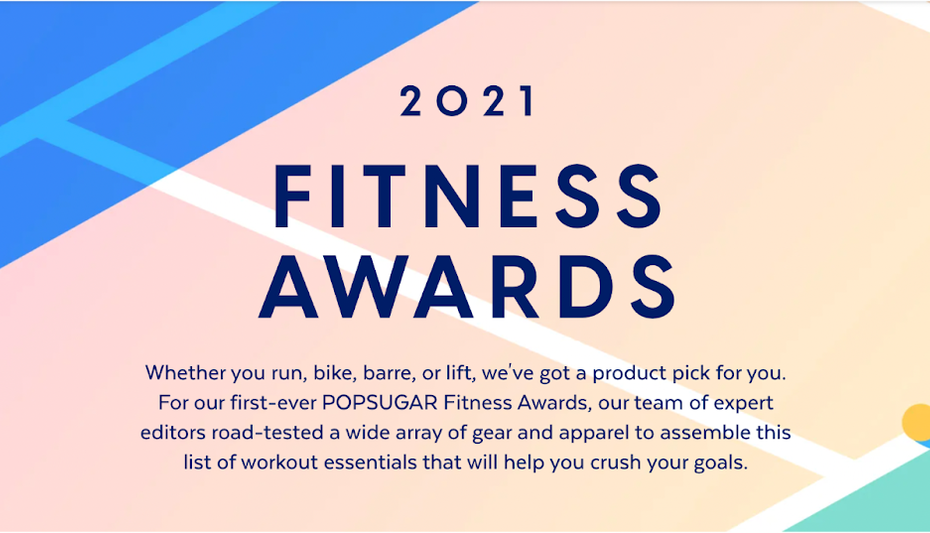 SAN FRANCISCO – (August 16, 2021) – POPSUGAR Fitness, the No. 1 most-viewed fitness publisher on social [source: Platform Analytics, July 2021], today launched its first-ever POPSUGAR Fitness Awards, a new editor-approved yearly awards program that honors the best fitness products of the year. From budget-friendly options to splurge-worthy picks, fitness experts from the POPSUGAR Fitness editorial staff have found the top products that anyone can add to their new at-home workout routines.
"POPSUGAR has a long history of covering fitness, and our passionate editorial team brings true expertise to this category," said POPSUGAR Fitness Deputy Editor, Jennifer Fields. "It has always been POPSUGAR Fitness' top goal to provide people with easy motivation and tools to stay happy and healthy. Following the at-home fitness boom, POPSUGAR Fitness is excited to provide our audience with a trusted list of the must-have fitness products that can be used in their living rooms or outdoors."
The POPSUGAR Fitness Awards spotlight a wide array of products across the fitness landscape, from the Best Stationary Bike and the Best Home Pilates Equipment, to the Best Wireless Earbuds and the Best Running Backpack. The awards also include three "Reader Fave" products based on consumer data from the official POPSUGAR Shop. POPSUGAR Fitness audiences are able to shop from the editorially-curated list of winning products from some of the leading fitness and activewear companies, including Peloton, Fitbit, Mirror, Under Armour, Athleta, and more.
As the No. 1 fitness publisher on social across YouTube, Facebook, Instagram and Twitter [source: Tubular Labs, May 2020], POPSUGAR Fitness was uniquely positioned to lean into the at-home fitness boom to meet its audience where they were during the pandemic — in their living rooms and on social media. The publisher enjoyed enormous growth throughout 2020, producing over 200 Instagram Live workouts and attracting more than 3 million net-new subscribers for a total of more than 5.75 million YouTube subscribers today. The audience growth has continued well into 2021, with its owned and operated website vertical seeing its largest traffic month this June. Most recently, POPSUGAR Fitness launched a streaming channel on VIZIO SmartCast, where consumers can access POPSUGAR's free fitness workouts, including the fan-favorite workout series "Class FitSugar."

Please find the 2021 POPSUGAR Fitness Awards winners here:
• Best Splurge-worthy Stationary Bike: Peloton Bike+
• Best Stationary Bike Under $1,000: Schwinn IC4
• Best Rower: Ergatta Rower
• Best Compact Treadmill: Treadly Pro 2
• Best At-Home Fitness System: Mirror
• Best Suspension Trainer: TRX
• Best Kettlebell: Bowflex
• Best for Butt Workouts: BootySprout
• Best Dumbbells: Peloton Dumbbells
• Best Booty Bands: Tone It Up Hip Bands
• Best Wrist/Ankle Weights: Bala Bangles
• Best Splurge-Worthy Smart Watch: Apple Watch Series 6
• Best Smart Watch Under $400: Fitbit Sense
• Best Muscle Rub: MuscleMX Restore Antimicrobial Lotion 500mg CBD
• Best Foam Roller: Rollga Foam Roller
• Best Massage Gun: Theragun Prime
• Best Ab Mat: Athlos AbMat with Tailbone Protector
• Best Workout Cap: Mission Cooling Performance Hat
• Best Visibility Vest: NoxGear Tracer 360 Visibility Vest
• Best Running Backpack: Gear Beast Running Backpack
• Best Water Bottle: Giotto Motivational Water Bottle
• Best Wireless Earbuds: Jaybird Vista
• Best Crop Top: Athleta Conscious Crop A-C
• Best Leggings: Aerie Offline Real Me High Waisted Crossover Legging
• Best Sports Bra: Brooks Running Drive 3 Pocket Run Bra
• Best Bike Shorts: Beyond Yoga Spacedye Running Short
• Best Cross Trainers: Under Armour Hovr Apex 3
• Best Running Shoes: Allbirds Tree Dashers
• Best All-Around Workout Shoe: Hoka Clifton 8
• Best Yoga Mat: Manduka Pro
• Best Yoga Block: Kakaos
• Best Yoga Strap: Gaiam
• Best Home Pilates Equipment: BOARD30
• Best Pilates Accessory: ProBody
• Reader Fave: Best Cycling Shoe: Gavin Road Cycling Shoes
• Reader Fave: Best Fitness-Friendly Face Mask: Athleta Activate Face Mask
• Reader Fave: Best Workout-to-Happy-Hour Wear: Beaufident Leggings and Sports Bra
*For more, visit POPSUGAR.com, and watch POPSUGAR Fitness on YouTube.
About POPSUGAR:
POPSUGAR is the #1 most engaged-with Women's Lifestyle site globally [Source: Comscore, September 2020]. The company reaches young women through its positive and purpose-driven content across multiple platforms, spanning entertainment, fashion, beauty, fitness, parenting, and more. POPSUGAR reaches 1 in 2 millennial women in the United States and leads all women's lifestyle publishers in user engagement [Comscore & Platform Analytics, 2019]. In November 2019, POPSUGAR joined Group Nine Media, the #1 video publisher on mobile in the U.S., and home to The Dodo, NowThis, Thrillist and Seeker [Nielsen DCR, June 2020].
###